From the south faces of Annapurna and Everest, to the Central Tower of Paine and Shivling : whether as lead mountaineer or expedition leader, Chris Bonington is not only one of the most prolific British mountaineers, but also one of the most creative, and an ardent explorer. We meet this giant of the mountains, Sir Chris Bonington, one of the greatest mountaineers of the 20th century.
nnapurnas (plural), Nuptse, the Ogre, Everest, as well as Changabang, Kongur, the Central Tower of Paine, Shivling, and many more: Chris Bonington has secured his place in the mountaineering history books, just as much for the array of summits scaled, as for the expeditions led on major climbs such as the south face of Annapurna and the south west face of Everest, from the 1960s to the 1980s. Since his legendary youth on the greatest faces of the Alps, from the Eiger to Freney Pillar, where he achieved a first right under the nose of René Desmaison, his name has conjured up epic tales of major expeditions, adventures to the four corners of the Himalayas, and the extraordinary generation of British mountaineers who left their mark on the world's most challenging mountains. Chris Bonington endured it all; a man whose ambition and talent pushed the boundaries of what was deemed possible.
BONINGTON IS A SURVIVOR. A MAN WHO NEVER SHIES AWAY FROM THE UNKNOWN
His friends all lost their lives in the mountains: Nick Escourt, Joe Tasker, Mike Burke, Peter Boardman, Dougal Haston. Some of the summits, whose peaks Chris Bonington discovered forty or fifty years ago, have not or only rarely been reached since, such as Annapurna 2 (7,937m, 26,040 ft) in Nepal, a forgotten giant, as well as Kongur (7,719m, 25,324 ft) in China's Xinjiang region. Having personally reached the base camp of this summit at around 4,700m (15,419ft), imagine a three-kilometre-high block stretching over 10 kilometres wide and peaking at 7,000-7,700m (22,965 – 25,262 ft). From below, you cannot even see where one of the tallest mountains in Pamir peaks, on the other side of the world. Sir Chris Bonington climbed it in 1981, at a time when China was still a closed state – demonstrating that political acumen was not the least of his talents.
The Bonington myth
We first met the affable and cheerful Bonington myth at the launch of his latest autobiography, The Next Horizon, published by Nevicata a few years ago. In 2018, we bumped into him again during the Piolets d'Or awards at the Ladek festival (Poland), still smiling despite a fall which had damaged his nose. Sir Chris even remarried in 2016, at 82 (to the widow of fellow mountaineer and friend Ian McNaught Davis), having lost his wife in 2014 to a neuronal disease. In Poland, we listened to the long tribute he paid to the three French climbers that make up Le Gang des Moustaches (the Moustache Gang), who forged a new, direct and radical path up the vast south face of Nuptse Nup II. 56 years after the first ascent of Nuptse I, by Chris Bonington, at a primitive stage in the Himalayan conquest.
I have been lucky. I should have died ten times already. Chris Bonington.
On 22nd September 2018, Bonington introduced the French climbers as his successors, endowed just like him with a sense of adventure on the highest peaks: Fred Degoulet, Ben Guigonnet and Hélias Millerioux, who were moved to tears by this honour. Altitude, hypoxia. Commitment. Bonington knows what he's talking about. Adventure with a capital A, without satellite phone weather reports or Google Maps, without ice screws to speak of or lightweight tents. Born in 1934 in Hampstead, an upscale part of London, nothing predestined Bonington for what he became: one of the greatest mountaineers of the 20th century. He even admits it himself: "I have been lucky, there's no two ways about it. I should have died ten times already". Over to him. Quote.
Annapurna II: first expedition, a first full stop
Chris Bonington : In 1957, I went to the Alps for the first time. Hamish McInnes and I wanted to attempt the Eiger. But it wasn't a good idea! So, we went back the next year… to become the first Brits to climb the Bonatti pillar of the Dru. In Chamonix there was lots of fighting, at the exit to the main road and in night clubs. I would try to avoid it. Two years later, in 1960, I was given the opportunity to go to the Himalayas, as an officer in the British armed forces, on a joint military expedition with India and Nepal. Our expedition leader, Jimmy Roberts, lived in Katmandou, and thanks to his in-depth knowledge of the area and the country we managed to organise this expedition and complete the first ever ascent of Annapurna II; at nearly 8,000m (26,247ft), which was no small feat. There is a long section of the climb which is especially gruelling, and for that matter very few expeditions venture to this summit nowadays.
Expedition leader
Chris Bonington : I've always been interested in good management, how you inspire confidence in people to perform, and how you create the best conditions to foster success. These days I'm often invited to talk about management, but regardless of the objective, the basic principles remain the same. When we decided to attempt the south west face of Everest, to go with this idea, to forge this path, the expedition comprised a whole, including all the preparation, over a long period of time, as well as managing it. For me, the expedition itself is more important than reaching the summit. It's important not to let your own personal ambition take over, or interfere. It makes for a bad leader. A good expedition leader is someone who motivates the others first and foremost.
The dramatic story of the Ogre
Chris Bonington : On the Ogre (or Bhainta Brakk, 7,285m, 23,901 ft) in Pakistan, I helped Doug Scott climb down after he had fallen and broken both of his legs during the first epic ascent in 1977. When you push the limits of climbing, there is always something that can go wrong. The reason we survived is this : we kept going, together, and we stuck together. Doug Scott was incredible. We couldn't carry him. But he would not accept help, in fact he would help us. When he fell, he let out a cry. The rope was stuck, taut. Doug managed to climb down a bit and free up the rope. That's when I realised that we could make it out. In fact, Doug never imagined that we wouldn't. Neither did I.
THE OGRE, AN INCREDIBLE SURVIVAL STORY.
Chris Bonington : Following my own accident (ed. note: Chris Bonington also suffered a fall with broken ribs) we focused harder, doing everything we could to get through. As soon as the weather improved, after three days, we climbed down. The most frustrating part in the end was how it all concluded. Doug was evacuated in the helicopter, and my friends promised me that he'd be back to get me the next day. But one week later I was still alone (ed. note and injured) at base camp! Just when I'd decided to make my own way, the helicopter returned, and I was glad to see it! One day, on the summit of Ushba in the Caucasus, a friend said to me: "the adventure isn't over". It's the best advice you could give anyone.
Doug Scott the purist
Chris Bonington: Doug is a leader. So am I. We are good friends, but we have different ways of managing expeditions. After failing on K2, we each went off to do our own expeditions. I take a consensual approach to managing mountaineers on an expedition, whereas Doug is a kind of autocrat (laughing)! That doesn't stop us being good friends. With Don Whillans, it was different. He always wanted to get to the summit himself; that posed a problem on these major expeditions, where as leader, you are not necessarily the best placed person. Doug Scott always demonstrated impeccable ethics when climbing, and upheld this purist vision of mountaineering. In the most challenging conditions, Doug was uncompromising in his determination to continue climbing in this way. On the Ogre, when we were within reach of the summit, he climbed an incredibly difficult section, given the altitude. Doug went on to get involved in the Alpine Club, and today in the British Mountain Council, the UIAA, and also does a lot of humanitarian work for the Nepalese.
Razzia in Patagonia
Chris Bonington: Before setting off, Don Whillans came up with the idea of tents with 'solid' walls, a kind of portaledge before its time, but not as light: this Whillans box tent was designed to replace existing tents and withstand the wind and snow in Patagonia. Don took a very practical approach. In Patagonia, during our ascent of the Central Tower of Paine (ed. note the first), we needed to be able to stay at the foot of the face in case the weather suddenly cleared so we could set off straight away. I should point out that we were worried that the Italians, who arrived after us, would pip us at the post! So, we made these prefab box tents which were transported to the site. Don was a technical genius: he invented the current-day sit harness, as it is used today. We inscribed 'Britannia hut' on our tent to make sure the Italians understood that it wasn't for them! (laughing). We were so chauvinistic !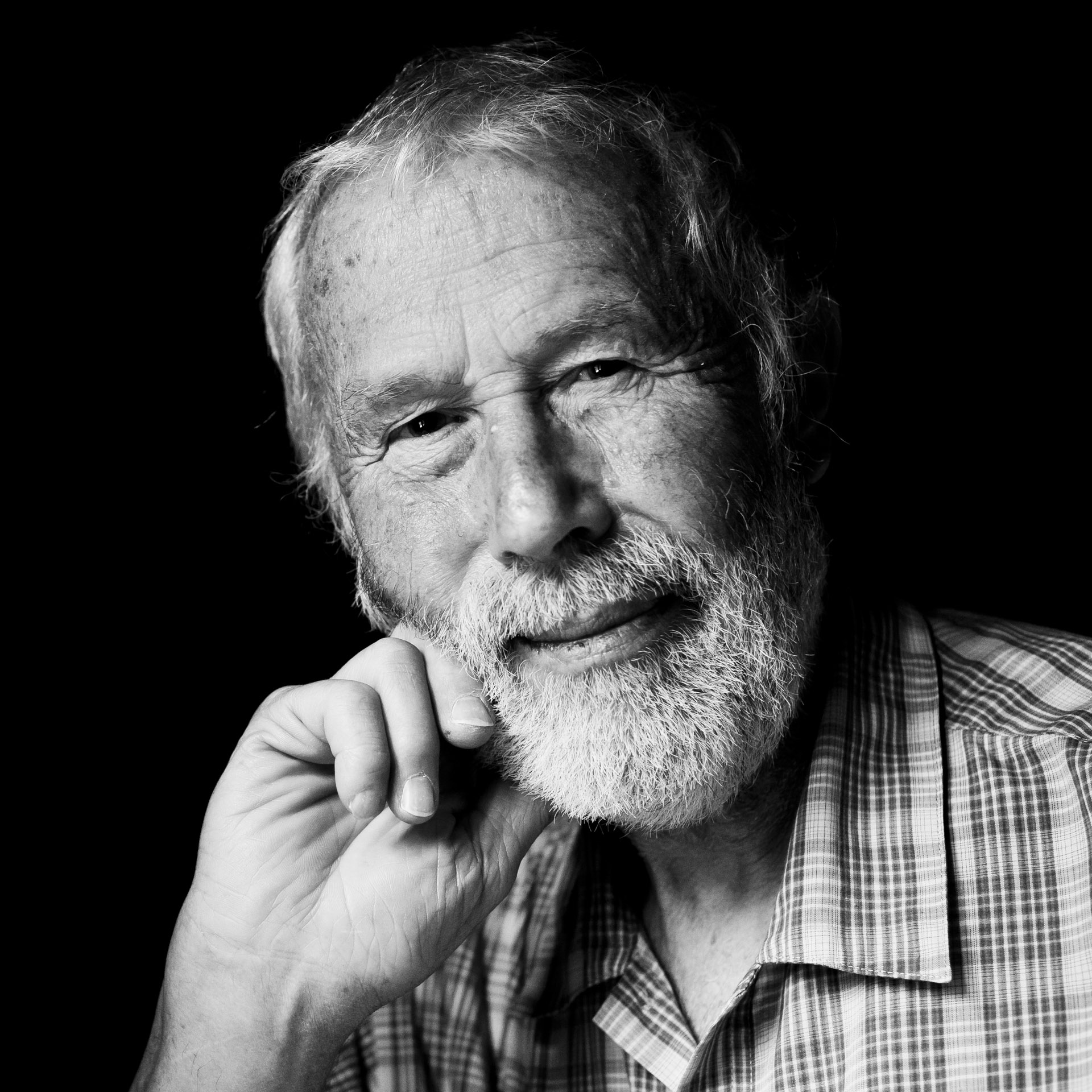 Chris Bonington. ©Jocelyn Chavy
Siege style expeditions
Chris Bonington : We didn't invent siege style expeditions. They date back to the first expeditions to Everest, in the 1920s. Post war, there was no other way to achieve major feats. Then, in the 1970s, I took the lead on some major expeditions, and also went climbing just as a mountaineer with friends, on expeditions where we didn't give much consideration to style, but where the fact of being a small group led naturally to Alpine style climbing. Personally, I would say that our four-man ascent of Kongur (1981) was in pure Alpine style. Indeed, it wasn't a question of means, but rather making as economical an attempt as possible, using the least resources (and therefore the least carrying and/or weight in the backpacks) possible. We could never have climbed the south west face of Everest, in 1975, using anything other than the siege technique. We couldn't do better. You study the mountain, you choose the path – and the tactic stems from that. I loved climbing in a small team, and sometimes even as a pair, like on Shivling.
Fear
Chris Bonington :  Jim Fotheringham and I managed to complete the superb south-west ridge of Shivling (India) together. (Chris and Jim spent six days opening up this ridge, Chris was 49 in 1983). Shivling is a wonderful summit, and making this ascent with just one other person, Jim Fotheringham, via a new path to the western summit, which itself was virgin territory, was a great achievement. Climbing down was frightening, however, with powdery snow that wouldn't hold and covered steep ice. We detached our ropes as we couldn't see how to belay each other. Fear is a sign: if you are climbing with someone who is never afraid, it's not a good sign. Beware. Or stop climbing with them.
IF YOU ARE CLIMBING WITH SOMEONE WHO IS NEVER AFRAID, IT'S NOT A GOOD SIGN.
Himalayists of the future
Chris Bonington : In the Himalayas things are constantly changing in a spectacular way. In 1970, we used the siege technique to climb up the south face of Annapurna. At that time, given the equipment we had available, there was hardly any other way to climb this huge face apart from siege style.  If we look at Nuptse in 1960, it was probably one of the most difficult climbs made in the Himalayas at that time, apart from the Italian expedition to Gasherbrum IV.
APART FROM THE ITALIAN ASCENT OF GASHERBRUM IV, NUPTSE IN 1960 WAS PROBABLY ONE OF THE MOST DIFFICULT CLIMBS MADE IN THE HIMALAYAS
Chris Bonington : These days, the new generation is accomplishing amazing climbs using the Alpine technique, that the mainstream media give absolutely no coverage to, despite the fact that these mountaineers are achieving really incredible feats. Yet the advent of climbing walls, and the developments in free climbing thanks to these artificial facilities, seem to me to have widened the gap between the practices of climbing and mountaineering. Transition to the Alpine environment can sometimes be challenging, but I feel that we are currently experiencing a new dawn of mountaineering and trad climbing. It is always risky taking on this kind of challenge in the mountains.
Article originally published on 17th January 2019.